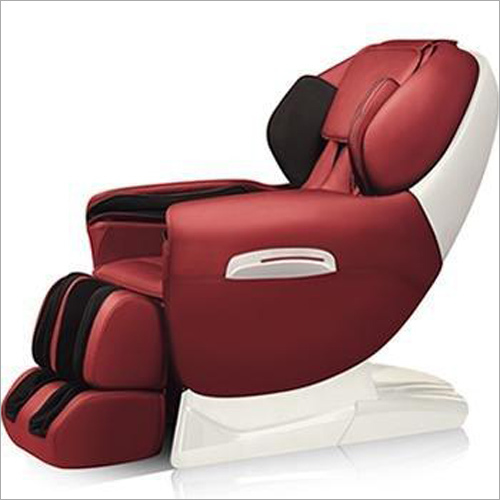 2D Massage Chair
Price And Quantity
Piece/Pieces

100000.00 - 300000.00 INR
Product Specifications
Frame

Household Furniture
European Style

120 Kilograms (kg)
Product Description
We provide
2D Massage Chair
which is based on 2D technology to move roller up & down and left & right. This chair is widely used for relaxing the tensed muscles as well as for soothing the body. It is available with airbag, roller and airbag pressure massagers for shoulder, feet & calves. Our provided chair contains 6 auto modes such as ache relief, comfort, relax, demo, upper body and lower body. Also, this
2D Massage Chair
is featured with 2 programmable memory modes.
Key features:
Deep red Durahide fabric upholstery
Can automatically adjust the angle of backrest & leg rest
Also, known for its unique zero gravity & foot scraping functions
Zero Gravity- Its zero gravity mode helps to generate around 118 degree elevated angle between the feet and the body of its user. In this mode, the posture of the calf and thigh becomes higher than the level of heart. This type of seating position promotes equal distribution of body pressure on the massage chair so that the user can sense weightlessness of his/her body to experience a pleasurable massage session.
Zero Space- It uses single button operated mechanism to obtain its zero space mode. This zero space button enables this massage chair to move and forward sans any trouble. This chair can be opened near to the wall by maintaining a distance of about 5 cm. The seat of this chair can be slide forward at 22 cm even within limited space. In the tilted position of this chair, the user can experience a sensation of floating.
Shape Curved Rail- The ergonomically designed long shaped curved rail helps to synchronize the position of back and buttock parts by creating around 135 cm of massaging distance so that the user can enjoy a rejuvenating massage session.
Back Massage Range- The cutting edge mechanism of its automatic hands is meant for providing effective massage on waist, back, shoulder and neck by moving in upward and downward directions. Its mechanical hands can attain around 21 cm width in horizontal direction. Vertically, these hands can maintain width of 135 cm that covers the entire back part of human body.
Leg Airbag Massage- This massage chair is equipped with multiple air bags of various shapes to provide massage on foot, ankle and calf.
Magnetic Therapy- Its 8300 cc magnet based massage therapy is meant for addressing magnetite deficiency of human body by triggering Zhonmaiacu and Chengshang points located on calf.
Back Width Adjustment- The backrest position of this chair is featured with shaped curve that provides total support to the body during massage session. The precise design of this part enables one to maintain correct posture by adjusting its width between 6 cm to 21 cm range in three different adjustment options.
Arm Airbag Massage- It uses total twelve air filled massage bags that have been designed as per different curve pattern of human arm to optimize its massage performance. These air bags produce three dimensional traction force to maximize comfort of its user via offering total massage from arm to the location of palm.
Carbon Fiber Far Infrared Heating- The infrared heat(0ºC-50ºC) generated from its carbon fiber based heater is instrumental in alleviating pain and cold sensation of your back. The cells of human body tend to absorb the energy present in the produced infrared waves. The infrared wave length is instrumental in accelerating metabolic function in human body by instigating cells.
Three Memo Modes The special massage technique adopted by this chair suits different massage requirements of persons belonging to different age groups. Its M1/M2 memory key based technology records required data regarding specific massage functions and methods used previously by its user. This memory based data recording function enables its user to enjoy massage session in future by simply pressing its button. Its mechanical memory mode takes only two seconds to activate itself and to provide the preferred mode of massage to its user.
Time Setting Function- The duration of massage for individual person can be programmed as per different needs. One can also enjoy uninterrupted massaging session with this time setting function.
Innovative Function- It uses single air pump that supplies required power for its smooth running with the support of its total twenty eight airbags. The precise air pressure delivery based mechanism of its air bags allows one to enjoy massage session sans any interruption.
Contact Us
#FS-001/3 Ground Floor, Viswas Paradigm Apartment, Major Sandeep Unikrishnan Road, M.S. Palya, Vidyaranapuram, Bengaluru, Karnataka, 560097, India
Phone :+918037265678