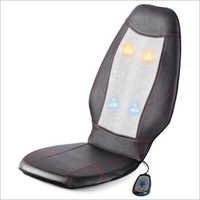 Car Seat Massager
Product Description
Backed by the steadfast assistance of our team of dedicated professionals and well-equipped infrastructural facility, we have carved a noted niche in the industry as an eminent manufacturer and supplier of
Car Seat Massager
. This massager is featured with heat bag for extra soothing as well as for reducing the inflammation of muscles. Also, it is seat topper back and neck massager for extreme relaxation. Our provided massager is attached with an elastic strap to fit onto chairs and car seats. Further, this
Car Seat Massager
helps to relieve the pain of back.
Key features:
Multifunction controller with off-Lo-Hi controls for each zone
Has a heat function
Also, can be used at home while reading, watching TV
Whole body massage: - As part of its application specific design, the backrest and armrest sections of RK-7805LS model of three dimensional massage chair are joined together so that its user can relish full body massage session.
3D Massage Machine: - It adopts cutting edge 3D massage equipment to provide mild massage to the delicate points of buttocks, shoulders and neck. Its shoulder press facility is meant for maximizing comfort of its user.
Zero Gravity: - Get rid of pain caused by pressure in joints and spine with the advanced zero gravity based lie down massage therapy of this chair.
Space capsule-type arm air pressure massage: - The RK-7805LS model of massage chair allows you to experience relaxing arm massage from different reclining angles of your choice with its dotted surface, embedded airbags with required air pressure level and capsule type massage arm rest with air pressure based function. Its air pressure based massage can also be obtained for leg and seat sections. What is more, its zero gravity feature optimizes your comfort and makes massage session a memorable one.
Resistant structure: - The interior section of RK-7805LS massage chair is designed with premium quality steel which is usually used for designing luxury vehicles. State of the art rust protection technology like electrostatic spray or phosphating and pickling surface treatment have been used to extend its durability.
L-shaped rail, multi-angle integrated massage for back and buttocks: - The L shaped rail of this massage chair has been designed as per the S shaped outline of human body for maximizing comfort during massage. Its automatic core penetrates deep into the thigh and buttock parts for providing deep tissue massage. The ergonomic design of L shaped rail triggers acupuncture points of back part of human body and helps to restore energy by diminishing fatigue.
Skin-friendly leather material: - The entire body of this massage chair is covered with fire protected leather of imported quality. Protected against stain marks, this leather cover is convenient to maintain and it does not generate any unpleasant smell even after its repeated usage. In short, this anti allergic leather cover is meant for providing hygienic as well as relaxing massage session.
Leg Rubbing Function: - The leg rest section of this massage chair is equipped with a number of air bags with multi layered design to offer pulse pressure and rubbing based massage experience for leg muscles. This specific massage mode ensures proper circulation of blood for relieving fatigue of legs.
Play music: - The user of this massage chair can connect its intelligent terminal to any external device by using Bluetooth for listening to music.
Heating Back Massage Roller, Perfect Massage: - RK-7805LS model of this massage chair incorporates cutting edge heat based massage roller technique. As part of this massage technology, heat is generated while the roller provides complete massage to the buttocks, waist, back and shoulder parts. This specific massage mode helps to reduce fatigue by raising circulation of blood on pain affected area.
Relaxing and comfortable Stretch Massage: - This massage chair utilizes the concept of Thai massage mode that involves stretching of entire body to loosen ligaments and back muscles. This stretching technique is beneficial for reducing exhaustion of body. The rhythmical swaying technique used as part of this massage session guarantees about total comfort of the user.
Cloud-type airbag massage: - This massage chair adopts latest cloud airbag based massaging mode that has been created as per the principle of biomedical engineering. This technique involves utilization of air pressure, twist and stretching of buttocks and waist areas.
Technical Specification
| | |
| --- | --- |
| Reclining/extension protection | Yes |
| Full back massage | Yes |
| Electric reclining backrest | Yes |
| Leg rest with massage capability | Electrically extensible |
| Buttock air bags | Yes. 8 air bags for the legs and buttocks. |
| Calf air bags | 8 air bags for calves and soles. |
| Massage rollers | 2D |
| Air bags | 28 air bags in all. |
| Air pumps | 1 |
| Valves | 7 |
| Buttock massage | Yes |
| Relaxing massage and position | Yes |
| Calf massage | Yes |
| Reflex therapy | Yes |
| Sole massage | Yes |
| Remote Control | Yes. |
| Upholstery | Ecological, antibacterial leather. |
| Weight of chair (kg) | 112 kg |
| Power supply | 220 - 230V |
Contact Us
#FS-001/3 Ground Floor, Viswas Paradigm Apartment, Major Sandeep Unikrishnan Road, M.S. Palya, Vidyaranapuram, Bengaluru, Karnataka, 560097, India
Phone :+918037265678