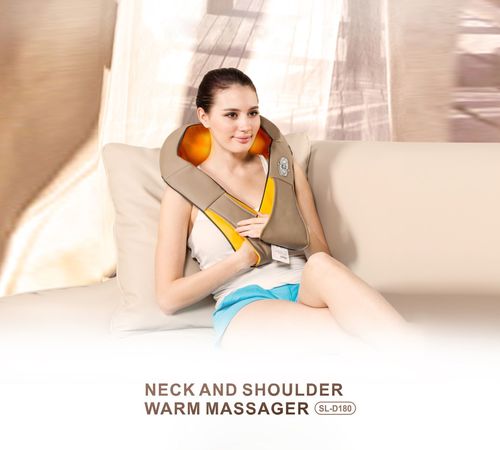 D180-Shoulder Massager
Price And Quantity
Product Specifications
Massagers

Fitness Equipment
Product Description
ERGONOMICDESIGN: The U-shaped curve design makes the massage pillowfit comfortably on your shoulder and neck. It has handhold cordless andadjustable, by inserting your hands through the wrist, it can support you frompulling down, you can adjust the strength levels easily according to yourneeds.

8 MASSAGE ROLLER BALLS: The neck shoulder massager contains 4 big and 4 small advancedmassager nodes which like real warm hands providing you a deep 3D kneadingshiatsu massage to relieve the pain and pressure.

HEAT THERAPY MASSAGE: We use the far-infrared heat source that can generate the heat fit the humanbody to promote blood circulation bringing you a more comfortable massageexperience. Meanwhile, we set the automatic protection of overheating. when thetemperature exceeds a certain level, the massage will be automatically stoppedto prolong the service life.Ø BI- DIRECTIONAL MASSAGE: The massage is built with a direction change button to switchthe massage direction. During the operation, you can switch the massagedirection according to customer's demand, and extremely comfort experience. MULTIFUNCTIONAL: Thismassage belt can be used not only for the shoulders and neck, but also for theback, waist, legs and other places where your muscles feel pain and stress. Inaddition, due to the portable design, you can use this massage in your house,in your car and your office!