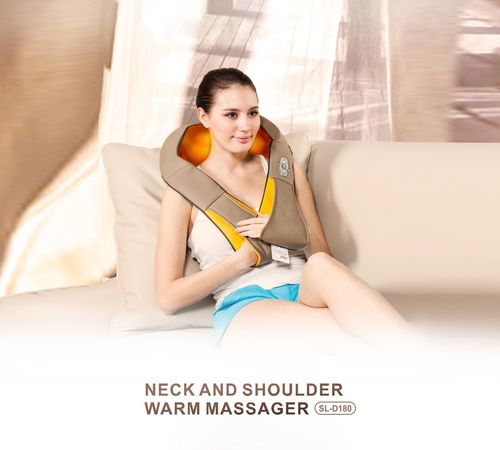 Product Description
In order to relax muscle strain, this
Electric Massage Chair
is featured with power rollers. It does not only reduce fatigue but also rejuvenate the mind & body. Provided massage chair contains massage heads to target stress relieving. Our provided chair is featured with high power vibration motor and air pressure massage. Also, this chair is built in heat intelligent roller system for providing extra comfort. Furthermore, our offered
Electric Massage Chair
consumes less power.
Key features:
Has updated designs and functions
Kneading: Reduces muscle pain and works out knots
Polyurethane foam for comfort seat
ALL NEW Zero Space Chair
The offered MODEL-A383 of this massage chair is preferred over commonly used massage chairs for its advanced reclining mechanism. Any ordinary massage chair tends to recline its back in downward direction. But the zero space based mechanism incorporated into the design of MODEL-A383 enables you to recline via its forward reclining motion. As its result, you can recline your chair within limited space sans changing the position of chair.
2D Massage: The two dimensional massage based mechanism of this chair enables its user to modify strength and intensity of its rollers.
Muscle Tension and Stiffness Relief
Known as the perfect combination of style and utility, this ergonomically designed massage chair is meant for alleviating muscle stiffness and muscle ache. It utilizes stretching and Gua Sha methodologies to loosen your back muscles in order to de-stress yourself.
New curved rail provides synchronization of back and buttocks:
Enjoy numerous benefits of multi angle integrated massage offered by the two dimensional curved rail based technology used by this massage chair. This specific concept of massage is especially beneficial for buttocks and back. The adopted massage technology is preferred over commonly used L shaped rail based massage method for its higher therapeutic effects.
Neck & Shoulder Massage: Relish shoulder and neck massage session with its mechanical massaging program that involves identification of precise location of pain automatically. This massage technique is truly effective in alleviating discomfort of cervical body part.
Kneading: De-stress yourself by experiencing its air pressure based manual kneading massage therapy.
Far infrared carbon fiber heating: Its carbon fiber based infrared heat (40 degree to 50 degree range) provides relief against pain and cold sensation of back. Human body absorbs the energy produced by the wavelength of radiated infrared heat which in turn helps to stimulate cells of human body to promote metabolic functions.
Automatic Massage: Its automatic massage of fifteen minutes of duration has the same rejuvenating effect that you experience after taking a bath.
Arm Airbags: This massage chair uses airbags to provide relaxing arm massage by triggering acupuncture points of hands and fingers as well.
Zero Gravity Function: Its zero gravity function is effective in fine-tuning the posture of body and in identifying precise location of massage points of shoulders and upper body.
Foot extension: Its foot massager section can be stretched forward at 23 cm level to adjust different heights of different users.
Underfoot Roller: Modify massage intensity of its underfoot roller while enjoying feet massage offered by this chair. Its latest mode of massage not only relieves your fatigue, but also boosts your energy level to a great extent.
Calf Rest: This chair is equipped with latest backrest and calf rest reclining facilities, mechanical and synchronized reclining functions for maximum comfort of its user.
Technical Specification
| | |
| --- | --- |
| Reclining/extension protection | Yes |
| Full back massage | Yes |
| Electric reclining backrest | Yes |
| Leg rest with massage capability | Electrically extensible |
| Buttock air bags | Yes. 8 air bags for the legs and buttocks. |
| Calf air bags | 8 air bags for calves and soles. |
| Massage rollers | 2D |
| Air bags | 28 air bags in all. |
| Air pumps | 1 |
| Valves | 7 |
| Buttock massage | Yes |
| Relaxing massage and position | Yes |
| Calf massage | Yes |
| Reflex therapy | Yes |
| Sole massage | Yes |
| Remote Control | Yes. |
| Upholstery | Ecological, antibacterial leather. |
| Weight of chair (kg) | 112 kg |
| Power supply | 220 - 230V |
Contact Us
#FS-001/3 Ground Floor, Viswas Paradigm Apartment, Major Sandeep Unikrishnan Road, M.S. Palya, Vidyaranapuram, Bengaluru, Karnataka, 560097, India
Phone :+918061855543