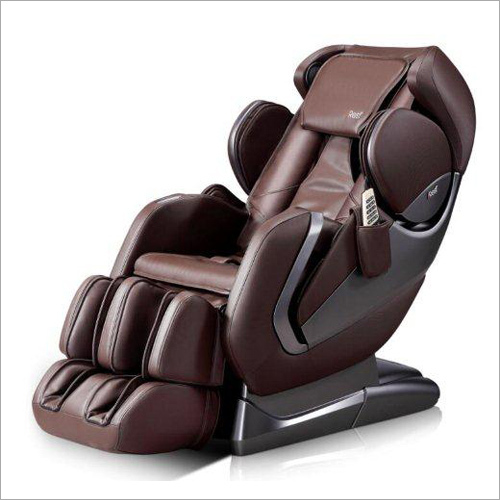 Multi Function Massage Chair
Product Description
We are providing
Multi Function Massage Chair
which is available with infrared heating therapy at back and seat cushion. It is featured with an air squeezing roller for the head, shoulder, back. waist and leg. This chair has body stretch function for mild, wide and narrow. Our provided chair is equipped with adjustable, stretched and retractable foot length as per the desired of our valued end customers. In addition, this
Multi Function Massage Chair
relieves muscle and joint pain well, stimulates nerves.
Features:
Luxurious design
Comfort feel
Consumes less power
(The content of its first five points is similar to the content of MODEL-A383 STANDARD SERIES MASSAGE CHAIR. So rewritten content is provided for any one of these products)
Air pressure massage function with three modes This massage chair uses 4-8 air bags for providing air pressure based full body massage. Its set of 16 air bags is meant for leg massaging purpose. The air pressure of all its air bags can be adjusted as per its user requirement.
Set with memory set on function M2 and M1
Far infrared carbon fiber heating

This massage chair uses infrared carbon fiber based heating mechanism that generates 40 degree to 50 degree heat for relieving pain and coldness of back. The wavelength present in produced heat harmonizes with the wavelength present in human body. As its result, human body easily absorbs required energy from infrared heat which in turn has a key role in promoting cellular functions and metabolic activities.
Intelligent automatic massage function The advanced massaging procedures adopted by this massage chair include oriental, express, classic, Swedish, chiro and wholesome.
Underfoot roller – The special design of its underfoot roller provides massage at the bottom part of feet, on the heel, on the arch and on toe in rotational direction via its mastoid skin scrapping based massage technique.
Manual massage for the upper body with three options This massage chair allows its user to modify its massage speed in five intensity levels while offering overall, partial and fixed massage. The user can modify the distance between two kneading balls up to three levels (narrow, medium and wide) while enjoying knocking, shiatsu and flapping based massage technique. The massage hands of this chair move in upward and downward directions during fixed point and partial point based massage.
On upper arm has two grades width adjustment function- The two grade width modification facility of the upper arm of this massage chair optimizes comfort of its user.
Back heating function: It uses carbon fiber based infrared heating medium as its source of heat.
Foot extension: The footrest section of this massage chair can be stretched forward as per the height of individual person.
Backrest frame: The down slide based design of this massage chair helps it to maintain minimal gap between the position of this chair and wall for space saving purpose.
3D stereo sound speaker: This speaker is fitted into armrest section of this massage chair.
Music: Equipped with blue tooth facility for enjoying music during massage session
Easy control keyboard: The keyboard has been installed on right armrest position so that the user can easily manage it while reclining or declining the chair.
Adjustment function: The user can modify lifting parameters of leg rest and back rest sections of this chair. Its lay down mode can also be changed mechanically as per massage requirement.
Technical Specification

| | |
| --- | --- |
| Reclining/extension protection | Yes |
| Full back massage | Yes |
| Electric reclining backrest | Yes |
| Leg rest with massage capability | Electrically extensible |
| Buttock air bags | Yes. 8 air bags for the legs and buttocks. |
| Calf air bags | 8 air bags for calves and soles. |
| Massage rollers | 3D |
| Air bags | 28 air bags in all. |
| Air pumps | 1 |
| Valves | 7 |
| Buttock massage | Yes |
| Relaxing massage and position | Yes |
| Calf massage | Yes |
| Reflex therapy | Yes |
| Sole massage | Yes |
| Remote Control | Yes. |
| Upholstery | Ecological, antibacterial leather. |
| Weight of chair (kg) | 90 kg |
| Power supply | 220 - 230V |
Contact Us
#FS-001/3 Ground Floor, Viswas Paradigm Apartment, Major Sandeep Unikrishnan Road, M.S. Palya, Vidyaranapuram, Bengaluru, Karnataka, 560097, India
Phone :+918037265678