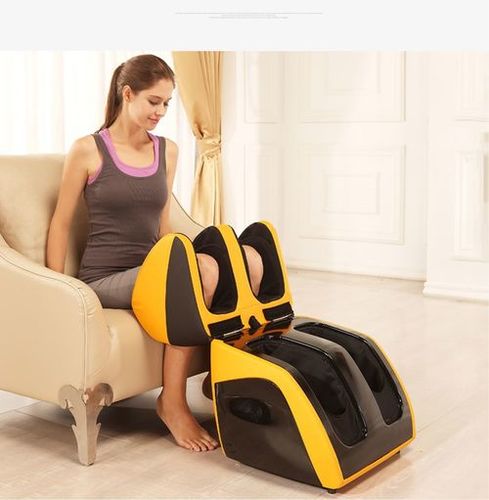 Product Description
Acclaimed for quality, our firm is involved in offering modern
Recliner Massage Chair
. This chair is featured with adjustable backrest and leg rest cushions. It comes with rocker function for rocking gently up and down for ultimate comfort. Our provided chair contains thick padded armrests and 2 cup holders for comfort seating. In addition to this, our offered
Recliner Massage Chair
is equipped with 33 airbags, 3 pressure modes, vibration massage and heat therapy.
Key features:
Comes with a music synchronizer which programs the message to the music
Automatic detection and adjust function for both the upper body and shoulder area
Extra large LCD display, MP3 player with stereo headphones and a mini cup tray
Massage Memory- The massage memory mode has been specially designed so that you can enjoy uninterrupted massage session as per your own choice by utilizing the exact massage parameters used in previous session.
Foot Massage Sensors Reflex Therapy- The footrest section of this massage chair can be stretched independently or it can be adjusted along with the backrest part. The backrest section ceases to operate mechanically in case it faces any hindrance while extending.
Complex Back Massage- As part of its back massage based mechanism, it uses four rollers with upward and downward movement function for a relaxing massage at back part.
Automatic Detection of Massage Points- This massage chair is capable of identifying precise massage location of upper body that includes shoulders.
5 Massage Types- The special design of this chair promotes five types of contact based massage that includes tapping, synchronized tapping and kneading, kneading, pressure and shiatsu.
Upper Body Massage- The user can experience three different types of massage for upper body that covers waist or back, shoulders and entire upper part.
Air Pressure Massage- The air pressure induced massage of this chair is accessible in three different options that include arms, lower body part and full body. The pressure intensity of its 25 air bags can be adjusted in three different levels.
Extensible Footrest- The rotatable footrest section of this chair can be stretched.
Chair Rollers- The rollers of this chair are meant for smooth movement of this chair so that you can enjoy the entire massage session from anywhere of your home.
Return to Vertical Position- The chair gets back to its vertical position once its source of power ceases to function.
Automatic Massage- It offers three types of massage options as part of its automatic massage facility. These include memory B, memory A and enable.
Manual Upper Body Massage- Its hand controlled massage facility for upper body is accessible via three different options that include full area, partial area and local.
Adjustable Roller Width- This massage chair allows its user to modify the gap between its two massage hands in three different ways (narrow, medium and wide) while offering pressure based or shiatsu and tapping massage.
Joint Extension Function- This specific function allows extension of foot and arms.
Leg Rest Adjustable by up to 15 cm. Reflex Therapy- The backrest position of this chair can be slopped at maximum 54 degree and its leg rest position can be elevated at around 90 degree angle. The user can experience reflex therapy based foot massage.
Top-Quality PU Leather Cover- It uses premium grade PU leather made cover with high breathability level. This PU cover is completely protected against alkali, acid and wear.
Arm Massage with Rotating Air Bags- Its rotatable air bags help to maintain stability of shoulders by extending shoulders in a gentle manner while massaging.
Foot Rotation, Continuous Stretching- Its stretchable foot rest section promotes optimum rest of your feet while offering rotation based massage. You can modify foot rest position at the time of calf massage as per your height.
Massage Technique:
Double Pull- The double pull based massage technique involves steps like pulling and stretching. The entire idea of this massage method is based on the theory of chiropractic principle that recommends pulling based massage. This type of massage promotes formation of new bones and improves overall health.
Complete Massage, Total Relaxation, Pain Relief- The air pressure based massage function of this chair can be accessed for arms, lower body and entire body. The pressure intensity of its twenty five air bags can be adjusted in three intensity level options.
Forearm and Hand Massage with Fully Incorporated Air Bags- The massage technique adopted by this chair is perfect for those who are experiencing pain caused by long time handling of mouse. It uses advanced three dimensional massages for hands and forearms to relieve pain of hands.
Contact Us
#FS-001/3 Ground Floor, Viswas Paradigm Apartment, Major Sandeep Unikrishnan Road, M.S. Palya, Vidyaranapuram, Bengaluru, Karnataka, 560097, India
Phone :+918061855543