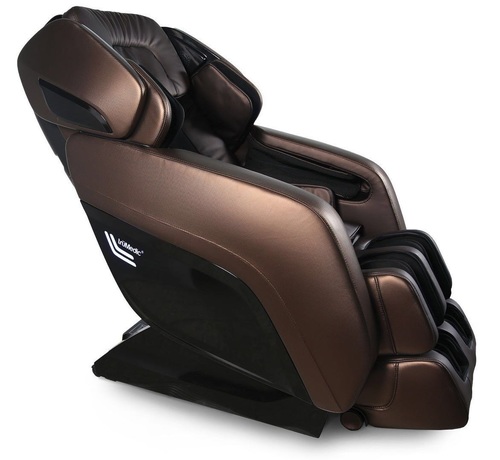 Robotic Massage Chair
Price And Quantity
Piece/Pieces

100000.00 - 300000.00 INR
Product Specifications
144.3 Kilograms (kg)

MASSAGE CHAIR
1470X745X940 Millimeter (mm)
Product Description
3D Massage Machine:- With intelligent soft 3D Massage Machine, it can massagethe neck, shoulders, buttocks more gentle, comfortable and accurate, shoulderpress function is equipped.

Zero Gravity:- One button press to perform zero gravity lie downfunction. It can effectively alleviate the pressure on spine and joints,allowing you to experience the real zero gravity.

Space capsule-type armair pressure massage:- The ISPL-739 massage chair uses space capsule-type armrests,embedded-type air bags, and a dotted surface, which means the arms get acomfortable massage, irrespective of the angle at which the chair is reclined.This feature in combination with the air pressure massage on seat and leg areas,and the zero-gravity function allows your body to enjoy a sensation of comfort.

Resistant structure:- Luxury-car level steel frametechnology: the ISPL-739 massage chair's inner frame uses high quality steeland the most advanced pickling phosphating/ electrostatic spraying technology(a kind of anticorrosion technology widely used by luxury cars).

L-shaped rail, multi-angle integrated massage for back and buttocks:- The L-shaped mechanismprovides in-depth massage, observing the body's S-shaped curve. The mechanicalcore can reach the lower part of the buttocks and thighs. The curved railmatches the human body perfectly, which results in an accurate massage thatstimulates the acupoints on the back, relieves fatigue, and helps the usersrecover their physical fitness.

Skin-friendly leather material:- The ISPL-739 massage chairuses imported fire-resistant leather, whose easy-to-clean, odorless surface issuited to the human body, providing you with a healthy and comfortable massageexperience.

Leg rest has function of rubbing leg and press massagewith multilayers of airbags. It adopts rubbing and pulse pressure on the legsmuscles to promote blood circulation, recover the vigor of legs.

Play music:- Connect your device viaBluetooth to the chair intelligent terminal to Play music.

Heating Back Massage Roller, Perfect Massage:- The ISPL-739 massage chair uses pioneering heating massageroller technology, which offers overall heating while the roller massages theshoulder, the back, the waist, and the buttocks. This technology which improvesblood circulation, relieves fatigue effectively, greatly improving the overallmassage effect.

Relaxing and comfortable Stretch Massage:- The ISPL-739 is endowed with Thai massage techniques whichstretch the whole body, so that the back muscles and ligaments get completelyrelaxed, relieving fatigue more effectively. Meanwhile, this technique enablesthe body to sway rhythmically, offering the user the freedom to relax and enjoythe fun.
Cloud-type airbag massage: -The new cloud airbag massage technique is based on the humanbody Engineering theory, and consists in the connection of waist and buttocks,which can perform the function of air pressure waist stretch, swing or twist.
Contact Us
#FS-001/3 Ground Floor, Viswas Paradigm Apartment, Major Sandeep Unikrishnan Road, M.S. Palya, Vidyaranapuram, Bengaluru, Karnataka, 560097, India
Phone :+918037265678