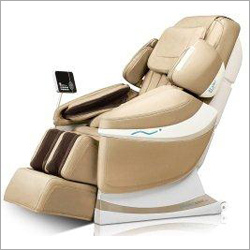 Swing Massage Chair
Price And Quantity
Piece/Pieces

100000.00 - 300000.00 INR
Product Specifications
American Style

Household Furniture
Product Description
Swing Massage Chair
provides air pressure massage for full body. Decent external design, zero gravity technology and modern look make this chair more popular in the market. Our provided chair is ideal for improving the blood circulation and reducing the pressure to vertebrate & arthritis. Also, it is available with heating therapy for increasing the blood circulation. In addition to this, our offered
Swing Massage Chair
is featured with 2 kneading massage rollers for a neck massage.

Key features:
3 group of shiatsu massage rollers for back & waist
Vibrating at seat cushion and leg parts
Control panel on side and easy to operate
This ergonomically designed MODEL-A50 massage chair is suitable for de-stressing oneself during massage session simply by laying back for maximum relaxation. Developed by using premium quality raw materials, this lounge chair makes your living room space truly comfortable. As part of its state of the art massage mode, this massage chair offers mild or high intensity massage for legs, thighs, lumbar and upper back part. The user can easily choose between its five massage modes with pre programming function. Thick sponge equipped padded seat of this massage chair symbolizes ultimate luxury and optimum comfort.
3D Intelligent Massage Technology
Its three dimensional massage mode perfectly integrates aspect stereo and multidimensional massage to maintain excellence in its performance. The cutting edge massage mode of its massage hands is instrumental in offering twist, push, press, swing, hold, flap, squeeze and knead based stroke. Unlike massage hands of commonly used massage chair, these automatic hands can be widened up to 12 cm to offer deep massage in lumber vertebra, thoracic vertebra and cervical vertebra.
BACK MASSAGE RANGE:
The automatic massage hands with intelligent three dimensional technology can be widened within the range of 6 cm to 21 cm for massaging waist, back, neck and shoulders in downward and upward directions . Vertically, these automatic hands can be stretched at maximum 81 cm distance in order to provide deep massage on back part and in different acupuncture points that include Shengshu and Fengchi points. In short, these massage hands are known for their twenty percent more effectiveness than ordinarily used automatic massage hands. Unlike their ordinary counter parts, these automatic hands provide professional massage to quickly relieve fatigue of shoulder muscles. These automatic hands adopt the concept of stereo massage technique to make its lumber vertebra massage mode more effective.
SPECIFICATIONS
THAI SOLE GUA SHA MASSAGE: This specific mode of massage involves human contact based stroke that integrates roller technology. This professional massage is provided from acupressure point of sole (Yongquan point). This gentle yet stable massage technique makes massage session a pleasurable experience.
WAIST SRETCH: The concept of this massage technique has been generated on the basis of chiro massage method. It helps to increase the gap between vertebral body for preventing any projection of bone and pain in cartilage tissue of nerve. This specific massage mode is truly effective in healing stiff muscle condition and herniated disk.
EXTENDED CALF & KNEE HEATING: The length of its calf rest section can be widened at maximum 23 cm and also as per the height of individual person. This calf massage section adopts carbon fiber based knee heating method in order to trigger Du Bi and Liang Qiu acupuncture points via massage. This massage mode is truly effective in alleviating pain of knee joints and accelerating circulation of blood in legs.
LINKAGE ARMREST: The armrest section of this massage chair can be reclined as per the angular direction of backrest. The user can easily massage waist and hand while adjusting the position of chair.
LEG AIRBAG MASSAGE: Equipped with multiple air pressure bags, this massage chair is instrumental in offering different modes of massage in the form of press, relax, stop and interactive air pressure massage on Kunlun point, taixi point and foot sanli point so that you can experience the sense of total relaxation after massage.
ARMS AIR PRESSURE MASSAGE: Both sides of its arm rest section are equipped with twenty eight air pressure bags to provide deep massage on neiguan point and hand sanli point to relieve fatigue of arms and fingers so that you can feel energized.
BUTTOCK AIRBAG MASSAGE: Its airbag based massage facility has been designed as per the buttock and thigh outline of human body. The Changqiang point and Huanzhong point are triggered via vibration, deflation and inflation of these air bags to reduce excess body fat.
CARBON FIBRE INFRARED HEATING FUNCTION: This massage chair adopts carbon fiber based infrared heating technique for generation of heat within 40 to 50 degree C temperature range. The produced heat is instrumental in alleviating pain and cold sensation of back. Human cell consumes energy present in the wave length of produced heat for activation of cell and for improved metabolic function.
CHEST AND SHOULDER MASSAGE: Equipped with four air pressure bags on its upper arms and three dimensional automatic massage hands, this massage chair offers naoshu and jianliao points based stroke to improve flexibility of body.
ADJUSTABLE HEAD CUSHION DESIGN: The head cushion of its head rest section can be modified up to 10cm to match with different height range of human body while offering relaxing head massage.
MAGNETIC THERAPY: As part of its magnetic therapy based massage, it adopts eight pieces of 300 CC permanent magnet. This therapy triggers reflect points of calf muscle to heal magnetite deficiency.
Contact Us
#FS-001/3 Ground Floor, Viswas Paradigm Apartment, Major Sandeep Unikrishnan Road, M.S. Palya, Vidyaranapuram, Bengaluru, Karnataka, 560097, India
Phone :+918037265678